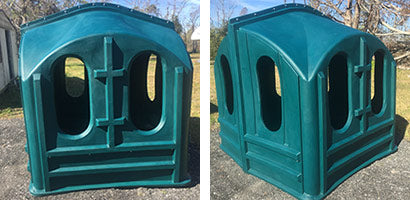 Hay Hut
Hay hut pick up only
We get these in loads of 10.  The next load is approximately 2 weeks out.  A half down deposit will claim your hay hut with the balance due at pick up, or you can pay in full and pick up when they arrive.  Pick up is in Girard, PA 16417.  You will receive a phone call when they arrive to arrange pick up of your hay hut.  Deposits are non-refundable.  

THE HAYHUT, the all-weather enclosed pasture hay feeder heralds a revolution in the feeding of hay to horses. The Hayhut is the best, most efficient, and most economical pasture feeder. In particular, our covered round bale hay feeders capitalize on the feeding of economical round rolls that are quickly replacing square bales as farmers struggle with production costs caused by lack of available labor. These labor shortages throughout the country are also forcing marked increases in the prices of conventional square bales!

By enclosing the hay, it is protected from inclement weather and the ravages of horses that, by nature, like to defecate on hay and use it as bedding. This wastage that can amount to in excess of one third of a round bale is almost totally eliminated by the Hayhut.


DIMENSIONS - 84" deep x 72" wide x 86" high

WEIGHT - 230 lbs


MATERIAL - high density polyethylene for strength and flexibility.

COLOR - Forest Green
-  HAYHUTS ARE MADE IN NORTH AMERICA FROM PLASTIC MADE IN THE USA -
---
Share this Product